OEM+ ECU Tune – Audi A5 3.0TDI
Description
SOFTWARE DESIGNED FROM THE GROUND UP. Give your vehicle the OEM+ treatment. Our OEM Performance Software is simply the most...
read more
Description
SOFTWARE DESIGNED FROM THE GROUND UP.
Give your vehicle the OEM+ treatment.
Our OEM Performance Software is simply the most effective modification you can make to a modern turbocharged engine.
We take a pretty unique approach. We don't modify existing software, we take the manufacturers' philosophy and create a complete new calibration designed from scratch exclusively for each model in perfect harmony with our performance parts.
That's what makes the OEM difference. We have been developing our OEM+ Performance Software for the past two decades to power our race-winning competition cars. But we know better than anyone that development doesn't stop there. A fast car is always a smooth, torque-rich car. And that's why we believe our OEM+ to be simply the best ECU Software Upgrades and TCU DSG Transmission Software in the market, conceived from a very different approach.
By bringing together a full suite of carefully developed software, all matched to work in perfect harmony with our ever-growing range of hardware, we truly believe that RacingLine Performance can offer customers the most complete range of upgrades for their VWG car.
1. It's by reprogramming the very basis of the controller itself that we achieve the results we get – just as the manufacturers themselves work.
2. By starting from scratch for each calibration, OEM+ achieves a very different level of performance and drivability. It's never just about winding up the peak power.
3. We are uniquely positioned to tap into a vast knowledge base and resources network in our development. And we're confident enough that you'll love it that we offer a 30 day full money-back guarantee.
4. No other brand can offer you such a comprehensive 'full-car' tuning solution. Our Performance Parts range is the most complete on the market, all matched perfectly to the OEM+ software.
5. Free upgrades on your car for as long as you own it. Start with OEM+ Stage 1, then we will give you Stage 2 and even Stage 3 Software for free!
6. Should you ever want to return your car to standard, the OEM+ system has the facility to return your ECU to 'True Stock', the exact state it was in prior to installation of OEM+ tuning.
Additional information
Related Products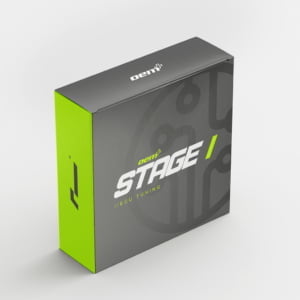 OEM+ Stage 1 – Volkswagen Golf R
Engine/ECU £420.00 £336.00 + Add to cart